Financial Aid Application Guide
2018-2019 Application Guide for Graduate Students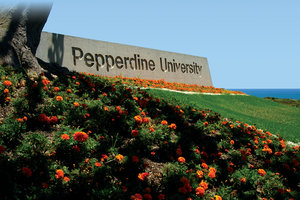 Financing your education involves a commitment affecting your financial standing. You will be required to make important decisions about student loan borrowing. It is your responsibility to learn how and when to apply for loans. The Graziadio Business School Financial Aid Application Guide below will help you through the application procedure and assist you in meeting important deadlines.
After reviewing this guide, if you wish to apply for financial aid for the 2018-2019 award year, please follow the instructions under "How to Apply."
If you would like to review the 2018-2019 Financial Aid graduate application guide, please click here.
When to Apply
Continuing students:  Financial Aid Application priority deadline for Fall 2018 is May 1, 2018.
New students:  We encourage you to begin your financial aid application process no later than the admission application deadline to ensure funds will be available to meet important tuition payment arrangement due dates. Financial aid packages will be offered when you are officially admitted to the Graziadio Business School.
Please note: Students may apply for financial aid for the 2018-2019 award year any time up to June 30, 2019 (if attending summer 2019). The Financial Aid Office may process aid for a given term no later than two weeks prior to the end of the term.  Important tuition payment arrangement deadlines should be taken into consideration when applying for financial aid. Please be advised that during our peak period, the financial aid application process can take a few weeks.
The renewal process: Financial aid is not automatically renewed. New federal and institutional forms must be obtained and submitted each year.
How to Apply
A Financial Aid Application Package includes the following:
The submitted 2018-2019 Free Application for Federal Student Aid (FAFSA) which  instructs students to identify the college(s) they have selected to receive their financial aid information by name and also by code. Pepperdine University's Title IV Federal School Code is 001264.
If your file is selected for verification, you will be required to submit:
IRS Tax Return Transcript (and your spouse's, if married). To request an IRS transcript, visit http://www.irs.gov/individuals/article/0,,id=232168,00.html, call 800.829.1040.
2018-2019 Verification Worksheet.
When completing your FAFSA online, it is encouraged that you use the IRS Data Retrieval Tool.
After the FAFSA is submitted, the University will electronically receive your FAFSA record. Students and applicants will be notified regarding any additional paperwork if required.  All outstanding documents will be listed on your Student Center "To Do" List on WaveNet. Once all required documentation is received, the Financial Aid Office will offer you financial aid based on your eligibility. An award letter providing guidance for accepting, reducing, or declining offered awards will be emailed to your Pepperdine email address.  If you are a first-time Graziadio School loan borrower, you will be required to complete a Master Promissory Note and  Entrance Counseling at www.studentloans.gov prior to receiving your first federal loan disbursement.
Eligibility
There are general eligibility requirements that apply to federal and state financial aid programs offered at the Graziadio Business School.
Students have to be one of the following:

U.S. citizen or national
U.S. permanent resident
Citizen of certain Pacific Islands (the Freely Associated States)
Other eligible non-citizen

Students must be enrolled at least half time to be eligible for federal student aid. The enrollment status definitions applicable to your program are available in the Graziadio Business School Academic Catalog.

Students are required to maintain satisfactory academic progress (SAP) as mandated in the Graziadio School Academic Catalog throughout the financial aid period. The SAP is evaluated at the end of each trimester. If the SAP standard(s) is not met, the student will be placed on financial aid warning status or may be suspended from receiving financial aid. A student suspended from receiving financial aid funds may appeal in writing to the Associate Director, Financial Aid Student Services at the Graziadio Business School.

The Graziadio Business School SAP standards, measurements, warning, suspension and appeal information are available for review at /admission/financial-aid/graduate/know/academic.htm.
The Graziadio Business School participates in federal and alternative education loan programs. For more information regarding eligibility for federal student aid go to studentaid.ed.gov/eligibility#basic-criteria
Federal Direct Stafford Loan Program
The William D. Ford Federal Direct Loan Program offers two types of loans made by the U.S. Department of Education to be used for education-related expenses: the Federal Unsubsidized Stafford Loan and the Federal Graduate PLUS Loan.
The Federal Direct Unsubsidized Stafford Loan is not interest-free at any time. However, payments may be deferred while the student is enrolled at least half time, during the grace period and during authorized periods of deferment.
If the interest payments are deferred, the interest will continue to accrue and will be added (capitalized) to the principal balance once repayment begins.
For information about the up-front origination fee  and  the Stafford Loan interest rate visit https://studentaid.ed.gov/.
Federal Graduate PLUS Program
Alternative Education Loans
Alternative loans are non-federal private student loans available from a variety of national lending institutions. Private student loans may be used by students who are not eligible to receive federal aid or as a supplement to federal loans. You have the right to borrow from the lender of your choice. The Graziadio Business School does not have any preferred lender arrangements. To review the terms and conditions for private loans offered by some lenders used by Graziadio Business School students in the last three years, click here.
Private student loans are credit-based. Therefore, if you plan to apply for a private loan, we recommend you obtain a credit report. Effective December 2004, all consumers may receive one free copy of their credit report annually. To request a credit report, access the following websites:
Most of the lenders offer better terms for private student education loans with a cosigner.

The loan limit for a three-term loan period is equal to the cost of attendance minus any other financial aid.
For more information about private student loans, contact the Graziadio Business School Financial Aid Office.
Federal Student Aid ID (FSA ID)
The FSA ID replaces the Federal Student Aid PIN.  An FSA ID is a username and password that you must use to log in to certain U.S. Department of Education (ED) websites including the FAFSA. Your FSA ID is used to sign legally binding documents electronically. To register for your FSA ID go to https://fsaid.ed.gov/npas/index.htm
To follow up on the status of your FAFSA, access www.fafsa.ed.gov and click on "check my submitted FAFSA." You can view your processed data, make corrections, and request a duplicate Student Aid Report. Please contact the Graziadio Business School Financial Aid Office prior to making any corrections other than an address change.
Tips for Loan Borrowers
Review your tuition charges and other educational expenses

prior

to borrowing.
Consider the origination fee when estimating the amount to borrow.
Remember that generally each loan covers three consecutive trimesters and will be delivered in three equal disbursements.
Meet important tuition payment arrangement due dates; complete your financial aid paperwork by the priority deadline to assure funds will be available and avoid late charges.
Ensure that required documentation for the specific loan period is received by the Financial Aid Office at least two weeks before the end of the loan period.
Stay enrolled at least half time to be eligible to receive federal student loans.
Check your Pepperdine email since all financial aid related communication will be sent to your Pepperdine e-mail address.
Check your "To Do" list on the Student Services Center page within WaveNet to ensure timely delivery of your student loans.
Read all messages displayed on the Accept/Decline Awards page within WaveNet prior to accepting offered awards.
Complete your online Direct Loan entrance loan counseling at studentloans.gov
Complete your online Direct PLUS Loan counseling if you are approved for the Direct PLUS Loan based on extenuating circumstances or with an endorser at https://studentloans.gov
Complete your online Direct Loan Master Promissory Note (MPN) at https://studentloans.gov
E-mail your loan adjustment requests (increase, reduce or cancel) from your Pepperdine email to the Financial Aid Office at PGBSfinancialaid@pepperdine.edu

. You may

 cancel your loans within 14 days after receipt of the notice that your account was credited by student loans.
Keep track of each loan period and the amount you borrowed, as strict adherence to aggregate loan limits is required.
Review your federal loan history at nslds.ed.gov/nslds/nslds_SA.
Share your experience with lenders and loan servicers by emailing your feedback to the financial aid at PGBSfinancialaid@pepperdine.edu.