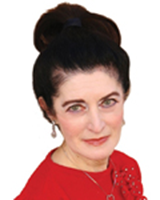 Sheila Moore, PhD, MBA
Lecturer of Finance and Economics
Graziadio Business School
Biography
Dr. Sheila Moore has pursued professions both in business and academia. After teaching at California Polytechnic State University in San Luis Obispo, she leaped into the business world by accepting the position of international economist for First Interstate Bank in Los Angeles. She then transitioned to vice president, credit analysis, for Australia-New Zealand Bank. Her next venture was a private business, working with entrepreneurs in the boutique hotel business. This entailed her involvement with the development of a new hotel, and by serving as general manager of Big Bear Inn. Upon returning to Los Angeles, Dr. Moore resumed teaching and worked in investment banking. Most recently she spent three years in New York at Gabelli Asset Management Company. Upon her return to Southern California, she again returned to teaching, and commenced a new career in real estate. She is principal of Caledon Capital and SJM Enterprises.
In addition to teaching economic courses at Cal Poly San Luis Obispo, Dr. Moore has taught MBA courses at Woodbury University, including macro and micro economics, banking and capital markets, finance, financial institutions, and real estate. At Pepperdine University, Dr. Moore teaches both economics and finance curriculums.
Dr. Moore has also written and hosted her own television shows, including Your Money Matters, Profiles in Business, and The Force Within You. She is a writer, commentator, and public speaker. Most currently she is the author of Economic Insights, a series of articles that provide a straight-forward unveiling and presentation of economic concepts and prescriptions.
Education
University of Arizona, Doctor of Philosophy, Economics

University of California, Master of Business Administration

Baylor University, Master of Science in Economics

George Washington University, Bachelor of Arts in International Affairs