Sheila Moore, PhD, MBA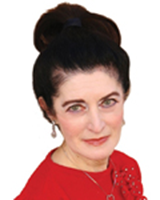 Dr. Sheila Moore has pursued professions both in business and academia. After teaching at California Polytechnic State University in San Luis Obispo, she leaped into the business world by accepting the position of international economist for First Interstate Bank in Los Angeles. She then transitioned to vice president, credit analysis, for Australia-New Zealand Bank. Her next venture was a private business, working with entrepreneurs in the boutique hotel business. This entailed her involvement with the development of a new hotel, and by serving as general manager of Big Bear Inn. Upon returning to Los Angeles, Dr. Moore resumed teaching and worked in investment banking. Most recently she spent three years in New York at Gabelli Asset Management Company. Upon her return to Southern California, she again returned to teaching, and commenced a new career in real estate. She is principal of Caledon Capital and SJM Enterprises.
In addition to teaching economic courses at Cal Poly San Luis Obispo, Dr. Moore has taught MBA courses at Woodbury University, including macro and micro economics, banking and capital markets, finance, financial institutions, and real estate. At Pepperdine University, Dr. Moore teaches both economics and finance curriculums.
Dr. Moore has also written and hosted her own television shows, including Your Money Matters, Profiles in Business, and The Force Within You. She is a writer, commentator, and public speaker. Most currently she is the author of Economic Insights, a series of articles that provide a straight-forward unveiling and presentation of economic concepts and prescriptions.
University of Arizona
Doctor of Philosophy, Economics
University of California
Master of Business Administration
Baylor University
Master of Science in Economics
George Washington University
Bachelor of Arts in International Affairs
Education
University of Arizona
Doctor of Philosophy in Economics
University of California
Master of Business Administration in Finance
Baylor University
Master of Science in Economics
George Washington University
Bachelor of Arts in International Affairs
Professional Profile
Assistant Vice President & Ombudsman 2006 to 2009
GABELLI ASSET MANAGEMENT CO, New York
Ombudsman for The Gabelli Global Deal Fund (closed end fund).
Raised $425 million in the Initial Public Offering, February 2007
Raised $96 million in the sale of Preferred Shares, February 2009
Liaison activities for investors and brokers
Wrote quarterly shareholder commentaries
Conducted Board of Trustee meetings and annual shareholder meeting.
Assistant Vice President of the Closed End Fund Group
Liaison and communications with investors and brokers: INVESTOR RELATIONS
Edited commentaries for all closed end funds: FINANCIAL AND BUSINESS WRITER
Reviewed and edited documents for SEC filings
Principal  1996 to 2006
SJM ENTERPRISES, Los Angeles, CA
Independent contractor: Mortgage Broker for American Classic Realty and Brokerage, Burbank, California
Provide wide range of financial and economic consulting services, written business plans, articles, and analyses of economic issues.
Wrote business plans, financial analyses, strategic marketing plans and business profiles for start-up and established companies in diverse industries including Investment Banking, Commercial Real Estate and the Recording Industry.
Prepared foreign and domestic Venture Capital prospectuses.
Developed comprehensive analysis and marketing presentation/brochure that resulted in the sale of Big Bear Inn. Oversaw and ensured accuracy and completeness of business escrow.
Adjunct Professor in Finance and Economics
Woodbury University, Burbank, CA. Teach MBA courses in corporate finance, managerial finance, financial institutions, investment analysis, and money & capital markets.
University of Phoenix Southern California Learning Centers (Oxnard, Pasadena, Woodland Hills, CA). Course offerings in economics and finance at undergraduate and graduate levels, including Corporate Finance, Macro Economics and Micro Economics.
Executive Manager 1988 to 1995
BIG BEAR INN, Big Bear, CA
Participated in the design, development, and construction of the hotel.
Guided growth of operation from startup operation to $2 million in revenues, achieving widespread recognition as a first class, European-style establishment.
Negotiated profitable contracts for banquets, conferences, special events and film productions.
Sourced and negotiated favorable terms with vendors.
Prepared and managed operating, special events, and capital improvement budgets.
Hotel was sold in 1995: finalized and completed both real estate escrow and business escrow for transfer of property and business.
Vice President / Chief Credit Analyst 1985-1987
AUSTRALIA-NEW ZEALAND BANK, Los Angeles, CA
Performed due diligence research; provided recommendations on corporate credit worthiness. Supervised and reviewed other credit analysts.
International Economist / Assistant Vice President, Credit Analysis 1980 to 1985
FIRST INTERSTATE BANK, Los Angeles, CA
Analyzed and reported on international political and economic environment. Supervised staff of credit analysts.
Initiated and developed The Industry Analysis program to ensure specific industry expertise.
Trained MBAs and bank officers in analytical reporting procedures for credit assessment.
Prepared International economic forecasts which became an integral part of First Interstate's Forecast publication.
Participated in presentations of the Forecast throughout western U.S.
Advised and consulted on foreign economies; delivered international presentations for management and corporate clients. Researched, authored and edited the annual Forecast that was presented to business clients throughout the world
SEC Series 7 License
Corporate Credit Training Program, First Interstate Bank
Created, wrote and hosted Your Money Matters and Profiles in Business for Public Access Television