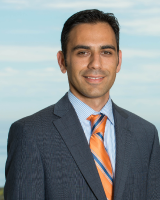 Kamran Bakhtiari, MBA
Instructor of Decision Sciences
Graziadio Business School
Biography
Mr. Bakhtiari teaches within Decision Sciences at Pepperdine University's Graziadio Business School in the Executive MBA, Fully Employed MBA, Master of Science in Business Analytics, Master of Science in Human Resources, Bachelor of Science in Management, and Executive Education Programs. He also works with students to broaden their global and business perspectives through week-long study abroad programs in Beijing, Shenzhen, Bangkok, Tokyo, and Taiwan. He takes great pride in imparting his students with the intellectual tools needed to solve real-world business challenges – helping them see through the lens of data and decision science to achieve practical, impactful results. In 2018, Mr. Bakhtiari received the Faculty of the Year award for his ability to inspire, motivate, and challenge his students at Pepperdine University. In that same year, he was recognized by HousingWire as a Rising Star.
Currently, he serves as the Executive Vice President of Marketing for PennyMac (NYSE: PFSI), the nation's top three lender, headquarterd in Westlake, California. With nearly two decades of experience in marketing and sales management, Mr. Bakhtiari oversees PennyMac's marketing initiatives and contact center operations. He is responsible for driving production volume through a marketing lens which includes omni-channel lead generation, creative design, and conversion rate optimization (CRO) in addition to maximizing results for leads through call center management and operations.
Prior to joining PennyMac, Mr. Bakhtiari was Vice President of Marketing at loanDepot, the nation's fifth-largest retail mortgage originator. In this role, he managed brand-focused acquisition marketing efforts for the company, which funded more than $125 billion in home loans, personal loans, and home equity loans.
With an extensive background in executive-level management and consulting expertise, Mr. Bakhtiari has in-depth experience in implementing direct marketing principles that leverage big data and lead generation in a way that optimizes revenue. He has been integral to the success of numerous startups and Fortune 500 companies. His professional experience includes consultant and leadership roles at Irvine Company, Verengo Solar Plus, REC Solar, Western Digital, Best Buy Health, Ten-X – a Google Capital company.
An authority on the Modernization of Analytics, Mr. Bakhtiari is a member of the Adobe Digital Marketing Customer Advisory Board and contributes to the company's ongoing effort to create, refine, and validate Adobe digital marketing products. He is also a sought-after lecturer who has done speaking engagements at UCLA, regional Tableau Data Analytics events, as well as the Software & Information Industry Association marketing series.
Mr. Bakhtiari is also the developer of a digital marketing platform (patent pending) that approaches typical multi-party media buying innovatively, focusing on data over placement.
He earned his Bachelor of Science in Economics from San Diego State University, with a specialization in Quantitative Analysis, and his MBA from Pepperdine University's Graziadio Business School.
Education
Pepperdine University, Graziadio Business School
Executive MBA

San Diego State University, Bachelor of Science in Economics
Specialization in Quantitative Analysis