Interview with Dr. Ann Feyerherm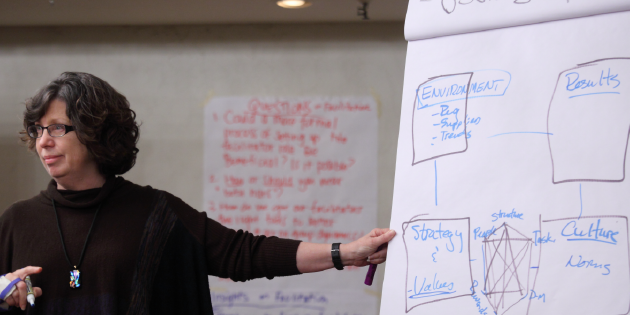 What are some of your career or personal milestones that people should know about you?
In my career prior to academia, I worked for Procter & Gamble in several managerial positions. Three highlights were orchestrating a major change to a production work system, being on a team that did corporate-wide training on "systems management," and handling responsibilities for the people affected by a plant shutdown, where we had several initiatives to help people transition with dignity and respect. In my academic career, I am a proud recipient of the Howard A. White teaching award and a two-time winner of the John Nicks service award. In addition, I have enjoyed teaching in many programs but especially in the MSOD program where I also served as the director. I consider myself a servant leader, having held roles as a Department Chair and now Interim Associate Dean.
What do you enjoy about teaching here at Pepperdine Graziadio?
"Our values-based education sets us apart in higher education."
Ann Feyerherm, PhD
Professor of Organizational Theory and Management
There are two main reasons—the type of students and my colleagues. I've found that people who attend and teach at Pepperdine are dedicated to their work and think ethically. I admire the applied focus at the Graziadio Business School and that our mission statement declares that businesses are more than just concerned about shareholder wealth. I appreciate that we bring theory to practice, and teach our students these values.
How do you think your class/program enriches the academic experience here at Pepperdine Graziadio?
Students in my classes gain an appreciation for the process of change—change in their lives and how to affect change in organizations. I also think my classes teach students how to manage oneself and also others.
What are you working on right now that excites you?
Currently I am working on curriculum revitalization. At Pepperdine, we strive to have programs that prepare people for the future needs of business and organizations. As I navigate through this process, I ask myself: How does one design a program that fits the needs of the market as well as stay true to our university mission? I am intrigued by what a 'wow' curriculum looks like and determined to figure out how we as faculty members can create such programs.
What are some of the trends and issues in business that we should be paying attention to?
There continues to be demand for people who can work well with others and lead. The workplace is so varied in today's market that people have to work across boundaries. This calls for those skilled in collaboration and communication. There is also a need for critical thinkers, those who can analyze data and turn it into knowledge for action as well as innovators, people who can tap into their creativity. Systems thinking is also important, as we are becoming enmeshed in complex systems and a change in one aspect of the system could have far-reaching implications for others in the system.
What is one piece of advice that you would give incoming or current graduate students?
You have the ultimate responsibility for getting what you need from your program. As faculty members, we are here to support you while also challenging you to become even better than you are.
What do you think distinguishes Pepperdine University in higher education?
Our values-based education sets us apart in higher education. The foundational principles and values we hold inspire students to move beyond just the classroom and build fulfilling personal and professional lives. At Pepperdine University, we educate the 'whole person'—not just the intellectual side.