LeRon Bishop
Full-Time MBA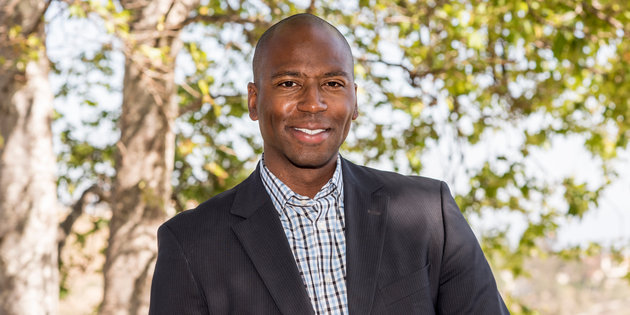 What attracted you to Pepperdine?
The primary thing that attracted me to Pepperdine was their focus on corporate social responsibility. I felt that they occupied a space within business schools and fulfilled a need to executive education that I felt was not being filled in the space prior. I remember when I first started the program I met Michael Crooke, it was before I even got accepted, and I had read about SEER and I read about his initiative and I thought that any program that implemented that as a strong cornerstone would be a program that would prepare me for a future in business and would give me an alternative viewpoint to management.
What was your best class while at Pepperdine?
Leadership Development was really impactful for me, in that it introduced me to aspects of business that I never knew existed, especially as it relates to emotional intelligence and really drawing down into what your key drivers are. Emotional intelligence was a really big thing for me. It taught me how to be introspective in a more strategic way. I'm an introspective person anyways, but that taught me how to be introspective and thoughtful about my leadership values and my leadership characteristics.
How did study abroad impact your education?
It's one thing interacting here on campus with the international community, but seeing the interaction between international working groups in a business setting was very impactful and the communication style, in terms of communicating business ideas, solving business problems and seeing that real world, was very impactful. The global programs provide a tremendous opportunity for you to engage in that whole process.
How has pursuing a higher education impacted your life?
It's impacted my life from a CSR perspective, corporate social responsibility, it has taught me from an experiential standpoint how to be more thoughtful about the business world. Other than preparing me for a great job after graduation, it taught me that the possibilities are endless and that I don't necessarily have to be pigeonholed in a certain career. In light of saying that it taught me that I can be an entrepreneur, even though I'm not pursuing entrepreneurship, I think the entrepreneurial mindset is very valuable, it is a key element inside the corporate room, and it's also a key element in terms of inspiring me to create something bigger than myself in the future and to create something that impacts society in a positive way.

"I believe the biggest benefit that I'll take from this program is being a strategist and approaching business problems from a multifaceted perspective."
How has Pepperdine provided value to your personal and professional life?
Having an MBA credential definitely adds values to my professional life, and my personal life has really mushroomed with the respect to the close personal relationships that I have developed over the last 20 months. The people I've met are more than just MBAs, they are more than just soon to be fellow alumnus, they are close personal friends with lives that I have been integrated into. I will take that with me for the rest of my life. I know that the individuals that I have met over the last 20 months will be family going forward.