Ashley Wallace, MBA '14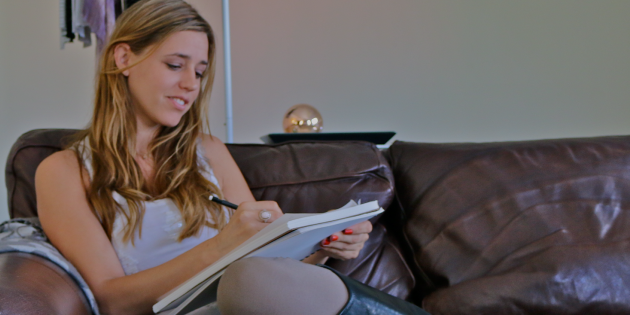 Graziadio Spotlight Stories
Fashion Guru Uses Pepperdine MBA to Turn Blog into Modern Clothing Line
Why did you choose Pepperdine University Graziadio Business School?
I chose Pepperdine because of the kind of community it has built for its students. The Pepperdine community is unlike any other school I've experienced. The faculty, staff, students and alumni all contribute to a uniquely collaborative culture in which everyone, from your marketing professor to your peers, actively takes part in how you succeed.
How would you define the "Pepperdine difference"?
Entrepreneurship is definitely Pepperdine's claim to fame. And it's not just theory – the school instills tangible, practical knowledge, taught by professors and guest lecturers who are successful business people themselves and give counsel based on their experience in the trenches. From day one, when I decided to switch my concentration to entrepreneurship, the program gave me the step-by-step tools to build my business from the ground up.
How did getting your MBA from Pepperdine help to advance you in your career?
It was such a game changer. When I decided to go back to school to get my MBA I thought I knew better than to go down the path of entrepreneurism, because I'd seen the stress it caused my family and wanted to steer clear. But after being encouraged to start my fashion blog while at Pepperdine, I knew there was no turning back from my entrepreneurial ambitions and Pepperdine was the best place for me. I never questioned my ability to launch my blog and fashion line because I had so much support and help from my Pepperdine community.
How would you describe your ROI on your MBA?
If it were not for my MBA, I would not have launched my fashion line. Developing a fashion blog is one thing, but Pepperdine gave me the tools to create Saav & Sass. I learned how to grow my business from the ground up and build upon my success. My return on investment was having the skill set to expand beyond my blog.
What is one lesson learned at GSBM that you have been able to apply to your career or personal life?
Time management was one of my biggest takeaways. As an entrepreneur, you have to learn how to prioritize your time because some days there just isn't enough time to do everything that needs to get done. At Pepperdine, I learned how to best manage and utilize my time. It wasn't until graduate school that I realized how much I could really accomplish with the right time management skills. In my day-to day proper time management gives me the ability to successfully run two startups.
What advice would you give to someone who is considering seeking an MBA?
Embrace the experience – the whole experience. The personal and professional growth you achieve during and after school will boost you to the next level in your career. And don't put it off, because there's no time like the present.
How are you supporting or staying engaged with the Pepperdine Community?
I often meet with current students to share my business experiences and entrepreneurial endeavors. I answer questions and give business advice from someone who's been where they are. As a Graziadio Alumni Network member, I also stay connected by attending alumni events and participating in different alumni activities throughout the year.