Faculty Best Practices
Edward Rockey, PhD
Professor of Applied Behavioral Science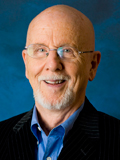 How do you incorporate experiential learning in the classroom?
In real-life case studies we find teachable moments. After all, they are based on actual situations. In a business school committed to applied learning, they are especially valuable. But what if you had a principal person involved in each case right there in the classroom!?
Years ago this thought came to me, "Whoa! All the students in our Graziadio School fully employed degree programs have unsolved problems at their workplace. What if they were mentored to write up and present a case to the class?" So instead of having the students deal with the printed page only (as in most published cases), in each case they are instead interacting with a fellow student who has a work-related challenge and is actually dealing with the difficulty or opportunity discussed in the case. And each case comes free of cost to the students.
Describe how this type of case work is learner-focused.
Especially in our Graziadio School, where students attend a weekend team building workshop, there is an intensified motivation to focus knowledge and skill in helping fellow students to solve case problems. Our values-driven mission, our support for small classes and the work-related savvy that students bring to the fully employed programs also enrich this method of presenting original, as-yet unsolved cases.
Also, the students can ask questions of a significant individual immersed in the case. This is very energizing and useful. Students sense that they can actually make a difference in regard to the case (as contrasted with printed cases that deal with something that occurred years ago). In the best of all worlds, case presenters sometimes report later on in the course how suggestions offered by fellow students earlier in the course have been put to work. It's a very gratifying experience, indeed.
How do you ensure students receive personal attention?
Every trimester I offer a personal, face-to face hour of career development for all of my students in the Behavior in Organizations course. One primary motivation for most of my Fully Employed MBA students is that they wish to succeed in their careers. After they have completed assigned readings and interpretive instruments, we engage in an in-depth, individualized session to enhance their career development. If they live far away from the campus, we do it electronically (by Skype).