Faculty Best Practices
Jack Green, PhD
Professor of Strategy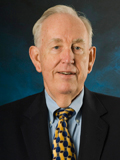 Describe how you incorporate experiential learning into your teachings.
The simulations I use in my strategy course are invaluable – students are split into teams and charged with managing a virtual company throughout the term. You could talk for weeks about implementation but there is no better way to fully understand it until you do it. The simulation has been an effective vehicle for integration chiefly because students must accept the consequences of their own decisions and actions in a simulated business environment. At the same time, the simulation is also an excellent tool to assist students to recognize the very direct impact that the typical "silo-oriented" disciplines actually have on one another. I've been told by former CEOs that this is as close to running an actual company as you can get.
What are some techniques you use to keep students engaged?

Instead of asking students to give canned presentations, they are required to facilitate class discussions. They are still operating in front of the class, but this method compels them to be very prepared – and also very flexible – because you never know where the discussion will lead. The interaction between students is terrific and they find it to be an extremely worthwhile activity. In the work environment, they are required to lead teams and discussion groups, so it's a very real world experience.
How do you ensure students receive personal attention?
I make myself very available, even outside the classroom. I give them my cell phone number and my e-mail, and I respond quickly. My thinking is, why should they spend an hour of their time wondering what they're supposed to do when they can just call me and ask? Students seem to appreciate just knowing that they are able to talk to me if they need to.