Faculty Best Practices
Nelson Granados, PhD
Assistant Professor of Information Systems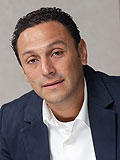 Describe how you incorporate experiential learning into your teachings.
For a few years, the Graziadio School had been doing its Education to Business (E2B) program in which students act as consultants to an actual company and advise on a real-time business problem throughout the term. It had been traditionally used in the marketing discipline, among others, but I thought it would be a valuable exercise for my information systems students. However, with IS, it can be a bit more complex because it typically requires access to the company's data and inner workings. Students first analyze potential problems on how the company does business – in terms of profits, administration, or production, for example – then identify an opportunity to improve it using technology. Throughout the term, they redesign a process involving technology that enhances the company's operations, which can make an impact on the bottom line. I've received overwhelmingly positive feedback from both students and clients.
What are some techniques you use to keep students engaged?
It's all about relevance. In class, I emphasize what students need to know that will benefit them in their careers. I teach information systems, and naturally, some students are more tech-savvy than others, so how do I make it relevant to everyone? I try to focus on the impact of technology in addition to the technology itself. How will it affect the way they relate to customers and suppliers or their ability to compete? I give tangible anecdotes from CIOs of real businesses they know, like Disney for example, and I try to make every class interactive.
How do you ensure students receive personal attention?
I make sure students know I'm accessible to them. I try to arrive early and stay late after class to chat with students, and I respond to their e-mails quickly. I also enjoy mentoring students, particularly those who voice a desire to shift careers to or from technology professions. I currently sit on the board of advisors of tech startups launched by students – it is so rewarding to see them applying the principles they learned here in class to fulfill their dreams and I'm thrilled to be a part of it.