Executive MBA (EMBA)
IMPORTANT DATES
Application Deadlines
SoCal, Spring 2015
1st Round: October 17, 2014
2nd Round: November 14, 2014
3rd Round: December 19, 2014
NorCal, Spring 2015
1st Round: October 20, 2014
2nd Round: December 15, 2014
3rd Round: January 12, 2015
Classes Begin
January 14-17, 2015 (SoCal)
January 28-31, 2015 (NorCal)
Ranked 23rd in the world by Bloomberg Businessweek, Pepperdine's Executive MBA delivers a full MBA experience in 19 months with a format and curriculum that fits the strategic needs and challenging schedules of busy executives. Classes meet approximately every three weeks at our Southern California graduate campuses or our Bay Area campus.
Get executive mentoring
Unique to Pepperdine's EMBA program, each cohort is assigned a class advisor who will act as a mentor and offer guidance throughout the program. Class advisors are graduates of the EMBA program and are drawn from a talented cadre of entrepreneurs and business executives with a wealth of valuable experience and connections to share.
Learn from faculty experience
Pepperdine's business faculty comprises respected business academics as well as seasoned executives, consultants, and entrepreneurs. And our low student-to-faculty ratio ensures that you have ample opportunity to ask questions, share ideas, and build relationships with the faculty and your peer executive cohort.
Learn from your own experience
In the first trimester, you'll choose a company—most students choose their own—as a "live case" study in an applied strategic plan. You'll assess the current state of the company from the perspective of the disciplines that you're studying in class and develop a strategic plan for enhancing the company's strengths and addressing its challenges. You'll be encouraged to bring day-to-day issues to class with you, making your business part of the curriculum and allowing you to learn from the business challenges faced by your executive peers.
Develop a global perspective
An international research excursion will give you keener insight into developing markets and a deeper understanding of global business practices. You will visit two countries and meet face-to-face with company executives to experience firsthand how global business is done.
Why Executive MBA Program?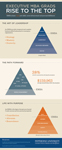 Executive MBA Grads Rise to the Top
EMBA Alumni enjoy new skills, career advancement and personal fulfillment.
The Art of Leadership. An EMBA provides integrated and complete business skills fundamental to running an organization.
The Path Forward. 38% receive a promotion during the program.
Life with Purpose. An EMBA is the degree that gets you beyond C suite success and into personal prosperity.
Share this Image On Your Site
Take the next step
We can't wait to tell you more about how Pepperdine's Executive MBA Program can benefit your career and your company. Take the next step today:
---
Meet Our New Executive MBAs!
At a Glance
Campus:
Northern and Southern California
Duration:
19 months
Schedule:
Fridays and Saturdays; meet once every three weeks
Work Experience:
Minimum seven years experience, two years at management level