Executive Education
Certificate in Private Capital Markets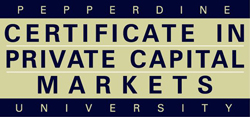 Building Wealth by Making Better Investment and Financing Decisions
The Certificate in Private Capital Markets (CIPCM) is a three-day curriculum-based training program developed by Dr. John Paglia in association with his ground breaking research in the Pepperdine Private Capital Market Project. The CIPCM program attendees learn in-depth critical analysis and evaluation skills for transacting successful financing deals within the private capital markets and the valuation methods used by capital providers when evaluating transactions. The program will be instructed by both Pepperdine faculty members and industry experts.
Next Offering: May 20-22, 2013
Certificate Learning Objectives
Perform an in-depth analysis of the major sources of capital in the private markets including angel, venture capital, mezzanine, private equity, bank loans, asset-backed loans, and factoring lines.
Study how providers of funds within the private capital market segments evaluate risk and determine who qualifies for a particular capital type.
Learn how capital providers value private businesses including the components of the risk profile impacting valuation and how business owners can operate to increase valuation.
Identify the advantages and disadvantages of major capital types in the private markets.
Introduce the private cost of capital (PCOC) model to estimate cost of capital for privately-held companies using the Pepperdine Private Capital Markets Project survey data.
Participant Testimonials
"Outstanding course."
"Exceeded my expectations."
"Some of the best presenters I have heard speak."

"Great speakers, all knowledgeable professionals. Their insights into their industries were excellent."
"It was fantastic. I enjoyed absolutely every aspect."
"Material very much on point. Impressive and effective speakers."
"I want more!"

Who Should Attend
The CIPCM is designed for business owners and professionals employed within the finance, banking, investment, mergers and acquisitions, valuation, management consulting, legal, and accounting fields. The certificate qualifies for continuing education credit for CPAS licensed in CA and MCLE for attorneys licensed in CA and may qualify for other credentials depending on the state of jurisdiction.
Instructors
Lead Instructor: John Paglia, PhD, MBA, CFA, CPA, Associate Professor of Finance; Senior Researcher, Pepperdine Private Capital Markets
Robert Slee, President of Robertson & Foley; Founder of Midas Nation, Author of Private Capital Markets
Rob Zielinski, Managing Director, Riordan, Lewis & Haden (RLH) Equity Partners
Rob Brougham, Jr., Managing Director, Newstone Capital Partners
Gary Clark, Venture Capitalist, Tech Coast Angels
Jan Hanssen, US Bank
Gary Rabishaw, Managing Director, Intrepid Investment Bankers, LLC
Certificate Program Details
Dates and Times:
Program Sessions:
Monday, May 20 - Wednesday, May 22, 2013
8:00 a.m. to 5:00 p.m.
Optional Networking Dinner: Monday, May 20, 2013, 6 p.m.
Location:
Villa Graziadio Executive Center
Pepperdine University
24255 Pacific Coast Highway
Malibu, CA 90263
Cost:
Early registration: $2,595 per participant (offer ends April 19, 2013)
$2,995 per participant (after April 19, 2013)

Take this in conjunction with Certificate in Long-term Value Creation and get a discount on both programs – total cost for both programs: $4,490 ($800 discount)
Cost includes materials, breakfast and lunch each day.
Register early. The program has limited space.
---
Contact Us
Kim Weiss
Interim Director of Executive Education
(310) 568-5787
kim.weiss@pepperdine.edu