Executive Education
Certificate in Strategic Corporate Social Responsibility
Managing Businesses in Sustainable Practices, Environmental Stewardship, Ethical Responsibility and Financial Strength
Next Offering: To Be Determined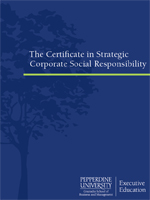 Download PDF Brochure
The Certificate in Strategic Corporate Social Responsibility is a two-day program focused on teaching business leaders the complexities of sustainability, corporate social responsibility, and ethics, and how these tie into producing a superior product that generates financial growth. The program goes a step beyond "the triple bottom line" – People, Planet, Profits – and adds a fourth factor to the equation: Product. Delivery of a quality product or service is essential for a sustainable competitive advantage in any business. The program is developed and led by Dr. Michael Crooke, the Pepperdine faculty lead for the SEER Certificate program.
Certificate Learning Objectives:
Participant Testimonials
"I was incredibly impressed."
"Absolutely fantastic instructors."
"A powerful mix of theory and practical examples."
"Great delivery."
Study the SEER philosophy and model, in the context of the challenges and opportunities facing business and society.
Gain in depth knowledge of the four macro-values – Corporate Social Responsibility (People), Environmental Stewardship (Planet), Financial Strength (Profits), and Product/Service – illustrating the crux of the SEER philosophy.
Evaluate the process of making tough decisions, managing the tensions between the four macro-values.
Learn how these function as a system with many areas of overlap and interaction versus operating as stand-alone concepts.
Who Should Attend:
The Certificate in Strategic Corporate Social Responsibility program is a training program designed for business managers and executives. The course does not have pre-requisites, but will be taught at a graduate level so attendees should have a basic knowledge of business strategy and operations. The certificate qualifies for continuing education credit for CPAs licensed in CA and MCLE for attorneys licensed in California.
Dates and locations may change. We will notify students of any changes in a timely manner.
---
Contact Us
For more information about the Certificate in Strategic Corporate Social Responsibility program, please contact:
Karel Kreshek
Interim Associate Director of Executive Education
(310) 568-5787
(310) 568-5787
karel.kreshek@pepperdine.edu