COMMENTARY
By LARRY COX

This opinion article originally appeared in the Orange County Business Journal and is reprinted by permission.
New Startups Fuel Economic Growth
Winston Churchill once defined a "fanatic" as "someone who can't change their mind, and won't change the subject." I confess, I am fanatical about entrepreneurship. I am thrilled by its capacity to transform individual lives, and amazed by its ability to elevate entire communities. It is so democratic and powerful! I truly believe that entrepreneurship is the key to lifting our economy out of its doldrums, and I am not alone.
According to a recent study conducted by the Ewing Marion Kauffman Foundation, net job growth in the U.S. for the last three decades has been driven almost exclusively by new startup firms. In a report titled, "The Importance of Startups to Job Creation and Job Destruction," Kauffman researchers report that, on average, three million jobs are added to the economy each year by firms in their first year of operation, while older companies lose one million jobs annually. These findings support what economic development professionals have asserted for years: entrepreneurial activity plays a critical role in our nation's economy. (Before you ask, a follow-on study found that the jobs created by startups are "remarkably durable," with 80 percent remaining in place even after five years of operation .)
As a consequence, support for entrepreneurship has grown among political decision-makers and educators. Indeed, according to the Global Entrepreneurship Monitor's 2010 Global Report "most policymakers and academics agree that entrepreneurship is critical to the development and well-being of society. Entrepreneurs create jobs. They drive and shape innovation, speeding up structural changes in the economy. By introducing new competition, they contribute indirectly to productivity. Entrepreneurship is thus a catalyst for economic growth and national competitiveness."
It is therefore no surprise that entrepreneurship is at the core of President Obama's National Innovation Strategy, which is designed to grow the nation's economy and create high quality jobs. In his State of the Union speech, the President stressed the importance of innovation and incentivizing businesses to innovate. More recently, he added that "entrepreneurs embody the promise of America: the idea that if you have a good idea and are willing to work hard and see it through, you can succeed in this country. And in fulfilling this promise, entrepreneurs also play a critical role in expanding our economy and creating jobs."
Orange County Leads in Innovation (but Lags in Entrepreneurship)
Closer to home, Orange County has positioned itself as a center of innovation, and now boasts one of the most diverse high-tech economies in the country. According to the Orange County 2010-2011 Workforce Indicators Report, "historically, Orange County has excelled in high technology industries such as computer software programming, pharmaceuticals and communications—and developed a number of high tech clusters where the county has had a clear competitive advantage. Orange County's number of high-tech industries with an employment concentration above the national average increased from 15 in 2007 to 16 in 2008. Orange County was higher than all its peers for the number of high-tech clusters above the national average."
The region has also developed a respectable level of entrepreneurial activity. The Kauffman Index of Entrepreneurial Activity recently found that within the Los Angeles-Long Beach-Santa Ana metropolitan area, 470 of every 100,000 adults started a business in each month of 2009 – more than the national average of 340. However, this is substantially less than the 630 and 610 within the Houston and Miami metropolitan areas, respectively, and places Southern California sixth among the fifteen largest metropolitan regions in the U.S. So, the question becomes, "How is it possible to lead the nation in innovation, but lag behind in entrepreneurship?" This is certainly a non-trivial question if, as asserted in research funded by the SBA Office of Advocacy , entrepreneurship is indeed the key to translating innovation into local economic impact. The implication is clear: Orange County must raise its entrepreneurial activity to match the level of its technological advantage. But how?
Systematically Developing Entrepreneurs
Aspiring entrepreneurs are increasingly seeking assistance, and universities and entrepreneur support organizations across the nation are increasingly mobilizing to meet this growing demand. Business schools in particular are developing more stand-alone entrepreneurship programs and degree concentrations that focus on helping students bring their ideas to life. Entrepreneur organizations are creating more workshops, boot camps, and networking events designed to coach nascent entrepreneurs and offer peer-to-peer guidance throughout the start-up process. All of these efforts are well intended, but could be more effective.
If I have a bone to pick, it's with the fact that most entrepreneurship programs focus too heavily and too quickly on the production of business plans. They typically begin by presenting an outline of "the elements of a business plan" and conclude with students submitting well-written, 25-page, spiral bound road maps to entrepreneurial success – complete with financials and colored charts. In twenty years as an entrepreneurship educator, I have taught my share of business planning courses and read my share of beautifully crafted plans. However, I must now admit (to my shame) that most of the plans I helped construct over the years were built around really bad business ideas – only a few of which actually resulted in a startup. Consequently, out of frustration over my lack of impact, I was forced to rethink what I do in the classroom.
I concluded that entrepreneurship is, at its core, a creative activity. It follows, then, that entrepreneurship education should focus primarily on fostering greater creativity in generating interesting and plausible solutions to market problems; all this before requiring students to jump into the implementation of the first idea that occurs to them.
In our entrepreneurship curriculum, for example, students embark on a series of courses framed by the notion of "entrepreneurship as creative problem solving." First in the sequence of six core entrepreneurship courses is a class that assists them in the discovery of their own brainchild – seven weeks to find a personally compelling venture idea with large market potential. The second course requires that students test the personal, technical, market and financial feasibility of that idea (another 7 weeks). This is followed by three more seven-week courses which help them flesh out a business model that will generate profits, build an effective organization and make connection with the intended market. Then, and only then, in the sixth and final class are they asked to complete a business plan that pulls it all together for presentation to a panel of angel and venture capital investors.
Entrepreneurs and Our Future
President Obama is leading the national effort to promote the success of more entrepreneurs across America. His call to action includes ensuring access to capital for high-growth start-ups throughout the country; expanding entrepreneurship education and mentorship programs that empower more Americans not just to get jobs, but to create jobs; and identifying and removing unnecessary barriers to high-growth start-ups, both within government and large corporations.
Creating an environment in Orange County, as well as throughout the state and nation, where entrepreneurs can utilize creative problem solving to test new ideas and bring them to market will ensure that our country remains competitive in the global marketplace. Educational programs are advancing entrepreneurship as one piece of this monumental effort. Working directly with aspiring business owners, educators are encouraging innovation and helping students find a personally compelling venture idea with large market potential, all of which will create new jobs and lead to sustained economic growth.
---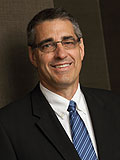 Dr. Larry Cox is an associate professor of entrepreneurship and director of the entrepreneurship program at Pepperdine University's Graziadio School of Business and Management. In August, he will be launching the new Master of Science in Entrepreneurship program at Pepperdine's Irvine Graduate Campus, a 20-month program for working professionals who aspire to launch new start-up ventures. Learn more: bschool.pepperdine.edu/programs/masters-entrepreneurship/
Related posts: