MBA ; News & Events
Media Kit
Graziadio at a Glance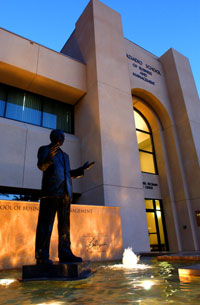 Pepperdine University
6100 Center Drive Ste. 400
Los Angeles, CA 90045
bschool.pepperdine.edu
(310) 586-5500
Dean: Linda A. Livingstone, Ph.D.
School Type:
Private
Affiliation:
Church of Christ
Graziadio
–
pronounced
(GRAT-ZEE-ah-DEE-oh): Thanks to God
Founded on the core values of integrity, stewardship, courage, and compassion, Pepperdine University's Graziadio School of Business and Management has been developing values-centered leaders and advancing responsible business practice since 1969. Student-focused, experience-driven, and globally-oriented, the Graziadio School offers fully accredited MBA, Masters of Science, and bachelor's completion business programs. More information found at http://bschool.pepperdine.edu/newsroom/.
Benefactor: George L. Graziadio, chairman, president, and CEO of Imperial Bancorp (acquired by Comerica Bank, 2001); endowed school in 1996
Campuses/Locations:
Los Angeles/Howard Hughes Center; Malibu; Encino; Westlake Village/Ventura County; Santa Barbara; Irvine; Silicon Valley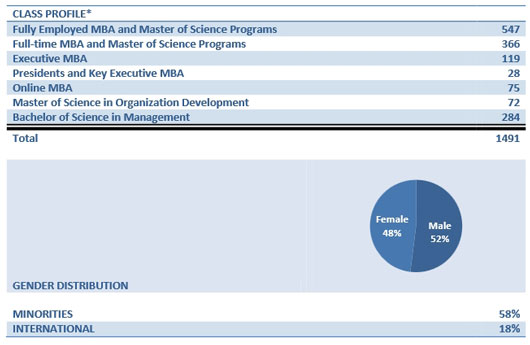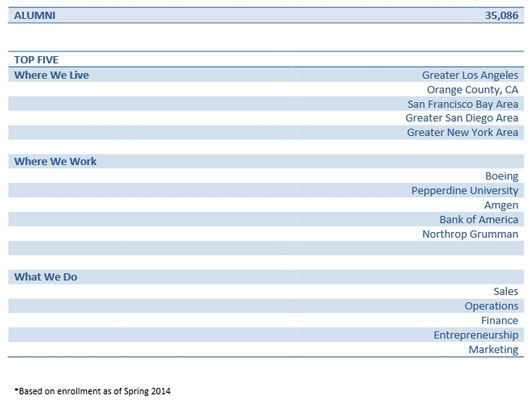 Browse Categories
Media Kit
For media assistance:
(310) 568-2314
Kimberly Shediak