Flexible MBA Option
Part-Time MBA Courses - Flexible MBA
Combination of face-to-face class sessions (53%) and online learning (47%)
Same faculty, curriculum, admission requirements, small class size, and academic rigor as our traditional Part-Time MBA
Face-to-face weekend MBA meetings on Saturdays at our centrally located West Los Angeles Graduate Campus
MBA core courses and select concentration electives available in a flexible delivery format
Access to all Graziadio Business School resources, including career services, networking events, and financial aid
On-Campus + Online: Hybrid Your Learning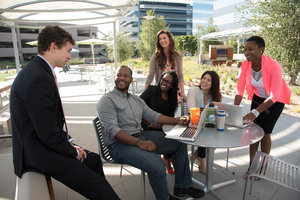 How the Weekend MBA Program Works
Course offerings vary by location. For each unit of coursework taken, MBA Flex classes meet for one Saturday per term. For example, a four-unit class will meet on four Saturdays over the course of a trimester.
The program begins with a weekend-long Personal and Leadership Development workshop, for which physical attendance is required.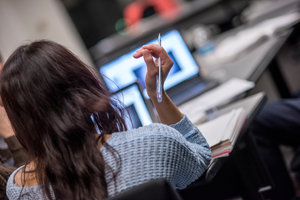 Dive Deep Into Digital
The Pepperdine Graziadio Online MBA is ranked among the best by U.S. News & World Report, and we leverage this expertise to provide an innovative, high-touch online learning experience to our Flex MBA students.
Online learning interspersed throughout the term includes podcasts, discussion boards, virtual meetings, and other interactive activities. Thanks to our small class sizes, professors know you by name and commit to your personal advancement.