SEER Certificate Faculty Message
Full-Time MBA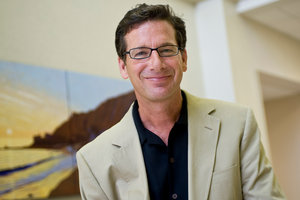 "When you look through the SEER lens, you will make better decisions for your company."
Michael Crooke
Lead Faculty, SEER Certificate Program
A Message from Michael Crooke
When then-Dean Linda Livingstone approached me about serving as the lead faculty member for Pepperdine's new program in Socially, Environmentally, and Ethically Responsible (SEER) Business Strategy, I couldn't think of a better fit. The SEER philosophy – along with my own professional and personal values – tie in perfectly with the Graziadio School's mission of developing values-centered leaders and advancing responsible business practice.
After serving as president and CEO of Patagonia, Inc. from 1999 - 2005 and as CEO at Revolution Living from 2005-2007, I learned that it is not only possible – but vital – for businesses to operate in a socially-responsible manner while still thriving fiscally.
Let's be clear, SEER goes far beyond implementing a couple green initiatives into your business. Rather, it is an overall mindset focused on embedding four "macro-values" into a company's DNA. When these values are collectively used to analyze an organization's strategic intent, we refer to it as using the "SEER lens." The values are:
Corporate social responsibility
Environmental stewardship
Financial strength
Product/service quality
These four macro-values operate synergistically with one another and are essential ingredients to becoming a great company in the 21st century.
For example, corporate social responsibility builds strong relationships with stakeholders, employees and the community, which generates support and strong development of a superior product/service. Environmental stewardship encourages less waste, which in turn fosters financial strength. And naturally, without financial strength, none of the other three values can exist.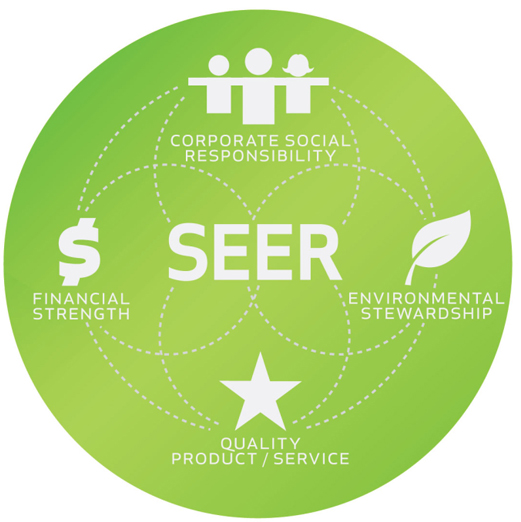 The SEER approach is not only relevant to someone holding the title of "director of sustainability." Professionals at all levels in every department can benefit from understanding the SEER way of business – because today, issues such as corporate citizenship, sustainability, and ethical business practice affect every role in an organization.
If you want to be an innovative, visionary leader who affirms a higher purpose for business practice, this program may be for you. I look forward to meeting you and discovering together new ways to improve business, the planet, and humankind in the 21st century and beyond.
Sincerely,
Michael Crooke, Ph.D.
Lead Faculty, SEER Certificate Program
---
About Michael Crooke
Michael Crooke has a unique track record for business success and social responsibility. Starting in 1999, Crooke spent six years as president and CEO of Patagonia and its parent company, Lost Arrow Corporation. During his tenure as Patagonia's CEO, Crooke led the company to tremendous growth, while nurturing its core values of quality and environmentalism. Patagonia and Crooke also won numerous awards for social responsibility, environmental activism, and sustainable business practices. This led to rapid growth, and enabled Patagonia to become one of Fortune's 15 "Best Companies to Work For." In addition to his faculty position at Pepperdine, Crooke currently serves as director of Earth Day Network and is a consultant to various high-growth businesses on strategic issues.