Meet the Faculty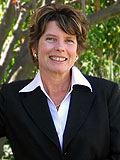 Terri D. Egan, PhD
Associate Professor of Applied Behavioral Science
Phone: (949) 223-2564
E-mail: terri.egan@pepperdine.edu

PhD, University of California, Irvine
MBA, University of California, Irvine
BA, University of California, Irvine
A nationally recognized management scholar and speaker, Dr. Egan is an associate professor of applied behavioral science at Pepperdine University's Graziadio School of Business and Management and a core faculty member in the Master of Science in Organization Development program. She teaches courses on the topics of leadership, team effectiveness, managerial decision-making, critical thinking, business ethics, appreciative inquiry, and organization change and development.
Dr. Egan has taught topics ranging from developing top management teams to creating high performance organizational cultures and has worked with a variety of public and private sector organizations, including the LAPD, Air Products, 3-M, R-Ranch in the Sequoias, PBQA, Infonet, Wescom Credit Union, Universal Studios, and Caesar's World. Most recently she has developed a change management certificate program for the Boeing Corporation.
Her award winning research has been published in a number of academic journals including Administrative Science Quarterly, Organization Science, Journal of Public Administration, The Information Society Human Relations and The Appreciative Inquiry Practitioner. She is on the advisory board of the Clearinghouse for Information on Values and Ethics in Organization and Human Systems Development. In 2005, her chapter on the topic of ethics in the field of organization development was published in the Practicing Organization Development: A Guide for Consultants.
In 2000, Dr. Egan combined her love of horses with her expertise and experience in management and leadership development to cofound Saddle Sojourns, a full-service organization development and change management consultancy. In 2002, Dr. Egan partnered with the Center for Leadership Studies, one the world's largest providers of leadership development programs, to integrate Saddle Sojourns programs with the Situational Leadership model.
Dr. Egan's current work focuses on an expanded model of leadership and organization development that supports the evolution of individual and organizational consciousness as a means for increasing creativity and capacity
Selected Links: