DELS

Featured Speaker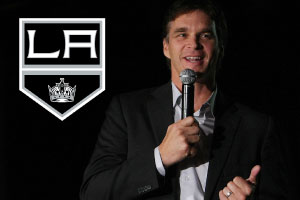 Luc Robitaille
President, Business Operations
Los Angeles Kings


Thursday, February 26, 2015
Reception: 5:30 p.m. to 6:30 p.m.
Presentation: 6:30 p.m. to 7:30 p.m.
The reception and presentation will take place at the City View Terrace.
Game, LA Kings vs. Ottawa Senators: 7:30 p.m.

Staples Center
1111 South Figueroa St.
Los Angeles, CA 90015


Admission includes game ticket. Game tickets will be distributed when attendees check-in at our registration table outside the Staples Center.
This event has sold out. A full refund will be given if registration is cancelled by 2/19/2015.


Event Parking
West Garage – Lot W – Gate B (Parking Pass Required).
*The first 100 vehicles of registered attendees (only) will receive complementary parking in West Garage – Lot W – Gate B. Please carpool if possible.

About Luc Robitaille
Luc Robitaille – a member of the Hockey Hall of Fame – is the highest-scoring left wing in NHL history and the all-time Kings leader in goals scored. He is in his seventh season as Kings president, business operations. Robitaille, who had his popular No. 20 jersey retired by the Kings in 2007, is one of the greatest players in NHL history. He played 19 seasons in the NHL – including 14 with the Kings – and in 1,431 career regular season games with the Kings, Detroit Red Wings (where he won a Stanley Cup in 2002), New York Rangers and Pittsburgh Penguins, had 1,394 points (668-726=1,394). In 159 playoff games, he had 127 points (58-69=127). Since retiring as a player and assuming his executive position, Robitaille has had a tremendous impact on the Kings business operations department, especially in the areas of sponsorship sales and renewal, fan and customer relations, game entertainment, media relations and broadcasting. Since 2007-08, the Kings have increased their number of sellouts at STAPLES Center each full season, and the team entered the 2013-14 season with 68 consecutive home sellouts while enjoying record revenues on the whole.
---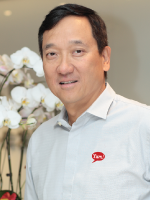 Sam Su
Vice Chairman, Yum! Brands, Inc.
Chairman and CEO, Yum! Restaurants China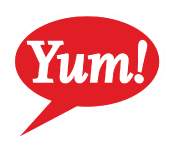 Friday, April 24, 2015
Reception: 6:00pm to 7:00pm
Presentation: 7:00 to 8:00pm
The Westin Bund Center, Shanghai
Diamond I Room – Main Building – Level 3
88 Henan Central Road
Shanghai 200002, China



About Sam Su
Jing-Shyh "Sam" Su became Chairman and CEO of Yum! Restaurants China in May 2010, maintaining his position as Vice Chairman of the Board at Yum! Brands, reporting directly to the Company's Chairman and CEO. Su had previously served as President of the China Division since 1997. Yum! Brands is focused on building leading brands in China in every significant category. Yum! is the leading retail developer in China with over 6,200 restaurants in more than 900 cities. KFC is the number one foreign brand in China with nearly 4,500 restaurants in more than 900 cities. Pizza Hut is the number one Western casual dining brand in China with approximately 1,000 restaurants in nearly 250 cities and approximately 200 Pizza Hut Home Service units by year-end 2013. Yum! China created and is testing East Dawning, a quick-service restaurant concept with nearly 30 stores serving Chinese food to Chinese consumers. In addition, the Company acquired Little Sheep in 2012, the leading hot-pot brand in Chinese casual dining with more than 400 restaurants. Yum! expects to open at least 700 new units in China in 2013.