Alumni Network
Graziadio Alumni Network
What is the Graziadio Alumni Network?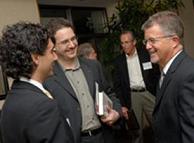 The Graziadio Alumni Network (GAN) is comprised of over 32,000 alumni and students. Membership in the network is free.
Members of GAN are actively at work building mutually beneficial, strategic partnerships between alumni, the university and the community.
The Graziadio Alumni Network seeks to cultivate a spirit of philanthropy, dedication, and community, strengthening one another's lives for purpose, service, and leadership.
Alumni Benefits
Networking and Continued Learning Events
The Graziadio Alumni Network offers an array of events, including executive panels, C-level presentations, networking mixers and breakfast series activities. Visit our Calendar of Events for our current schedule.
Career Services
Take advantage of your free online access to Graziadio Talent Online (GTO) and browse through jobs from 1,800+ companies and recruiters specifically looking to hire Graziadio School graduates.
Pepperdine Publications
Alumni receive a complimentary subscription to Pepperdine Magazine. Catch up on the latest developments in the Pepperdine community.
Library Privileges
Online database access, borrowing privileges, and in-person consulting are available for alumni use at the Malibu, Irvine, and West Los Angeles locations. Learn more about library benefits for alumni.
E-mail Forwarding
Sign up for a free e-mail address. Your@alumni.pepperdine.edu address is perfect for resumes and business contacts. It can be forwarded to any e-mail service provider, so it will travel with you through moves and new jobs. Sign up now.
Discounts and Other Benefits
Take advantage of the many discounts available to Pepperdine alumni for such services as graduate school prep courses, insurance programs, movie tickets, LAX parking and much more.