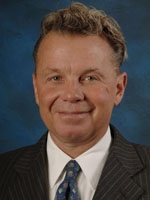 Dr. Samuel L. Seaman, Ph.D.
Professor of Decision Science
Ph.D., University of Florida
M.Ed., Stetson University
B.A., Stetson University
Dr. Samuel L. Seaman is professor of decision sciences in the Graziadio School of Business and Management. He teaches graduate courses in applied statistics and evidence-based decision analysis and has an applied research agenda that focuses on the use of mathematical models to solve dilemmas in economics, finance, healthcare, and marketing.
He has published in numerous academic journals including Business Economics, Communications in Statistics, Head & Neck Surgery, the Journal of Business Forecasting, the Journal of Business Venturing, and Strategic Management Journal. His consulting engagements have led to meaningful improvements in credit-scoring models, predictive models of charitable giving, and assessment models used to evaluate the efficacy of strategic initiatives on corporate financial performance.
Notable Publications: