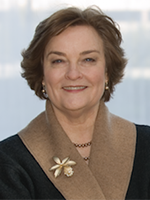 Dr. Miriam Lacey
Professor of Applied Behavioral Science
Ph.D., University of Utah
M.S., Utah State University
B.S., Utah State University
An authority on organization behavior and development, Dr. Lacey has been at the forefront of integrating behavioral science with management principles of human resources and quality management systems. She served on the United States Board of Examiners for the Malcolm Baldrige National Quality Award presented annually by the American President, and as Technical Advisor to the National Institute of Standards and Technology (NIST). She went on to become a judge for the inauguration of the California Governor's Golden State Quality Award.
Dr. Lacey works with Fortune 500 companies on the implementation of large-scale change for greater quality, productivity, and employee commitment. She has worked in human resources management and organization development in 19 countries and has been a recurrent lecturer at the Japanese Productivity Center and University of Lyon in France. Dr. Lacey has served on the boards of several manufacturing and sales companies in Europe and Asia and is the past Vice President and Chair of Education and Research on the board of directors for the Association for Quality and Participation. Dr. Lacey teaches exclusively in Executive Programs at Graziadio School of Business and Management at Pepperdine University. Known for her wisdom regarding excellence in leadership, employee motivation and change management, she maintains a vibrant executive coaching and teambuilding practice.
Notable Publications:
Lacey, M.Y., and Groves, K. "Talent Management Collides with Social Responsibility – Creation of an Inadvertent Hypocrisy". Journal of Management Development, Vol. 33, 4, p 399-409. 2014.
Lacey, M. Y., "Want Higher Impact Consulting? Use Yourself as an Instrument of Change." Chapter in Preparing Better Consultants (Edited by Addams, S. and A. Zanzi, Bentley University). A volume in the series: Research in Management Consulting. (Editor, Buono, A. Bentley University. 2011.
Lacey, M. L., "Building Global Competence: A New Pedagogy for a New Millennium." Human Resources and Adult Learning, Vol.5, Num. 1, June 2009.
"Analysis of Best Practices of Internal Consulting", Organization Development Journal, October (4th Quarter/Autumn) 2007, 123-131.
"Curriculum Implications Based on Analysis of Internal Consulting Practices", Organization Development Journal, January (1st Quarter/Winter) 2007, 199-212.
"Internal Consulting: Perspectives on the Process of Planned Change", Journal of Organization Change Management, (refereed) 8 (3), 75-84.