Faculty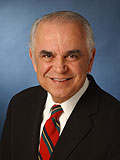 Kurt K. Motamedi, Ph.D.
Professor of Strategy and Leadership
Ph.D., University of California, Los Angeles
MBA, University of California, Los Angeles
MSEE, University of California, Santa Barbara
BSEE, San Jose State University
Dr. Motamedi specializes in strategic management and organization development, design, and behavior. He has served at various companies as president, managing director, managing partner, special projects director, board member, and long-term consultant. He has worked with multinational companies in diverse global industries including biotechnology, semiconductors, software, information technology, health care, news media, and financial services as well as with government organizations at city, county, state, and federal levels. An author of numerous publications and a frequent speaker on management topics, Dr. Motamedi has received the excellence in teaching and service award from UCLA's Ojai Leadership and Engineering and Management programs. He is a fellow of the Division of Applied Behavior Science at UCLA and a member of the Academy of Management and the American Psychological Association.
Notable Publications:
Boje, David; Motamedi, Kurt; and Rosalie, Grace Ann (in press) Transorganization Network and Storytelling as Managerial Agency for Tetranormalization. ISEOR Conference Proceedings
Pamela Davidson, Kurt Motamedi, and Tony Raia (2009) Using Evaluation Research to Improve Consulting Practice. Emerging Trends and Issues in Management Consulting: Consulting as a Janus-Faced Reality, pp. 61–74 Information Age Publishing
Wasilewski, N., Motamedi, K. K. (2007). Insights for Effective Strategic Planning. Competition Forum, 5, 229-235.