Meet the Faculty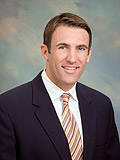 Kevin S. Groves, PhD
Associate Professor of Organizational Theory and Management
Phone: (310) 568-5729
E-mail: kevin.groves@pepperdine.edu

PhD, Claremont Graduate University
MA, Claremont Graduate University
BA, Eastern Washington University
Dr. Kevin S. Groves is an associate professor of management and currently holds the Denney Chair Professorship, an endowed fellowship that supports his research on succession planning and talent management practices in healthcare organizations, at Pepperdine University's Graziadio School of Business and Management. Groves is also president of Groves Consulting Group, a consultancy that helps organizations develop talent through leadership assessment, development and succession planning systems.
Groves teaches a range courses at the Graziadio School, including leadership competency development, organization design, and organization development and change. His prior experiences in academia include a stint as director of the PepsiCo Leadership Center at California State University, Los Angeles, where he managed a $1.45 million PepsiCo Foundation grant for the purposes of developing the leadership competencies of students, community members and local business leaders.
Groves' ongoing consulting work helps organizations design customized solutions for enhancing leadership bench strength, creating viable succession plans, reducing high-potential turnover and maximizing employee engagement. Clients include the Mayo Clinic, Kaiser Permanente, Sutter Health, Cleveland Clinic, Hospital Corporation of America (HCA), St. Jude Medical Center/St. Joseph Health System, HealthStream, Witt/Kieffer, the Los Angeles Chamber of Commerce, Frito-Lay, the Aerospace Corporation, Leadership San Diego, PepsiCo and the California Peace Officers' Association (CPOA), among others.
An active leadership scholar, Groves is widely published in business management journals, including the Journal of Management, Journal of Business Ethics, Academy of Management Learning & Education, Leadership and Organization Development Journal, Human Resource Development Quarterly, and Journal of Management Development. Groves is currently working on a multi-phase research project examining the quantitative business outcomes of exemplary succession planning and talent management practices.
Groves received a PhD in Organizational Behavior from Claremont Graduate University
Selected Links:
A - D
E - I
J - L
M - P
Q - S
T - Z