Meet the Faculty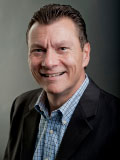 John K. Paglia, PhD, MBA, CPA, CFA
Associate Dean of Fully Employed Programs, Associate Professor of Finance, and Director of Accreditation
Phone: (310) 568-5613
E-mail: john.paglia@pepperdine.edu

PhD, University of Kentucky
MBA, Gannon University
BS, Gannon University
As associate dean, Dr. Paglia leads the design and delivery of evening and weekend business degree programs for working professionals, as well as oversees student recruitment for these programs and the school-wide marketing, communications and public relations functions. Dr. Paglia also serves as director of accreditation for the business school and most recently served as chair of the Finance and Accounting Department.
Dr. Paglia has taught MBA-level finance at Pepperdine for fourteen years, performed business valuations for privately-held companies, and testified on economic damage and valuation matters. He founded the award-winning Pepperdine Private Capital Markets Project, ongoing research investigating access to and demand for private capital among small to middle market businesses and the capital providers, lenders, intermediaries and affiliated others that serve them, for which he has been recognized by the Association for Corporate Growth with an Excellence in M&A Award in 2011 and the Alliance for Mergers & Acquisitions Advisors and Grant Thornton with a Thought Leader of the Year Award in 2012. His research has been covered in The Wall Street Journal, CNBC, USA Today, Businessweek, TIME, Bloomberg, Reuters, Inc., Forbes, Entrepreneur, MSNBC, ABC News, Huffington Post, Crains New York, the Los Angeles Times, the Washington Post and The New York Times, among others.
Dr. Paglia is a frequent speaker on the topics of privately-held company cost of capital, valuation, access to capital, and financing and deal trends at valuation and M&A conferences pertaining to small businesses and middle market companies. In addition to authoring Pepperdine Private Capital Markets Project reports and economic forecasts, his other research addresses financial contracting characteristics, discounts for lack of marketability (liquidity), the private cost of capital model and financing choices for privately-held companies. His work has been published in a number of journals including Journal of Entrepreneurial Finance, Journal of Business Valuation and Economic Loss Analysis, Business Valuation Review, The Value Examiner, Journal of Wealth Management, The RMA Journal, Graziadio Business Review and others.
Dr. Paglia holds a PhD in finance, an MBA and a BS in finance. He is a Certified Public Accountant and Chartered Financial Analyst Charterholder.
Selected Links: