Meet the Faculty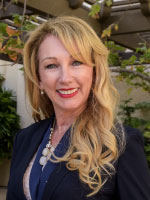 Bernice Ledbetter, EdD
Practitioner Faculty of Organizational Theory and Management
Director, Center for Women in Leadership
Phone: (310) 568-5712
E-mail: bernice.ledbetter@pepperdine.edu

EdD, Pepperdine University
MDiv, Fuller Theological Seminary
BS, California State University, Fresno
Dr. Bernice Ledbetter serves as Chair of the Master of Science in Leadership and Management degree program at the Graziadio School of Business and Management at Pepperdine University, where she teaches graduate-level courses across a range of leadership topics. She is an award winning teacher, and recipient of the Howard A. White Award for Teaching Excellence, and the George Award for Outstanding Faculty Member.
Dr. Ledbetter's professional background includes serving as a Vice President at Right Management Consultants, internationally known career transition and organizational consulting firm, and co-founding the De Pree Leadership Center dedicated to promoting values-based leading.
Dr. Ledbetter is an active member of the International Leadership Association and regularly presents research at academic conferences. She has authored several articles and book chapters and co-authored the book, Reviewing Leadership: An Evaluation of Current Approaches. Her most recent article "A Values Approach to Advancing Women in Leadership: Using Talent Management to Change the Equation" appeared in the Graziadio Business Review. Dr. Ledbetter is a recognized expert on the topic of women in leadership, she is a regular contributor on the Huffington post Blog, offering practical advice to women in leadership, and has been quoted in the Los Angeles Times, and LA Business Journal. Dr. Ledbetter is a frequent key note speaker on advancing women in leadership to industry groups and large organizations including Fortune 500. Dr. Ledbetter led a team in securing a Waves of Innovation grant to launch the Center for Women in Leadership at Pepperdine University where she serves as the Center's director.
A - D
E - I
J - L
M - P
Q - S
T - Z