Meet the Faculty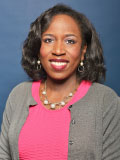 Andrea Scott, PhD
Assistant Professor of Marketing
Phone: (310) 506-8537
E-mail: andrea.scott@pepperdine.edu

PhD, University of South Florida
MBA, Emory University
BA, Wheaton College
Dr. Scott is a former Fulbright Scholar having completed a Teaching and Research Grant at the University of Technology in Kingston, Jamaica. She is pursuing research projects with the Jamaican Ministry of Health; one study considers the impact of culture on marketing communications aimed towards HIV/AIDS awareness and education. Her publications and research interests involve consumer behavior, advertising, social marketing, and investigating the challenges faced at the intersection of conscience, culture, and marketing.
She has advertising agency experience with national clients such as General Mills and Wrigley at DDB and BBDO in Chicago, worked with NBC during the 1996 Olympics in Atlanta, was a business analyst for Honeywell, Inc., and started and still owns The Write Touch (marketing consulting). Dr. Scott's teaching areas are Marketing Management, Consumer Behavior, and Marketing Communications. She also teaches the Case Competition class and serves as the main case coach for the Graziadio School.
She sits on the Board of Directors for the Los Angeles County Affiliate of Susan G. Komen for the Cure and has been an invited speaker on various topics including:
marketing challenges facing companies in the new economy
doing business in developing economies
generational differences in learning styles and consumption values
diversity and multicultural issues in the workplace and marketplace.
Dr. Scott is passionate about using persuasion for public good.
Selected Links:
A - D
E - I
J - L
M - P
Q - S
T - Z